Panagrams
Players: Two or more
Players alternate in adding a letter to a word, to make an anagram of a new word.
Description
The first player starts with a three-letter word. The next player tries to find a four-letter word by adding a letter and making an anagram of all the letters.
The players continue in this way, making longer and longer anagrams. The first player unable to make a word loses.
Example
For example, the first player could start with:

The other player could then add a K to make:

Play might continue as follows: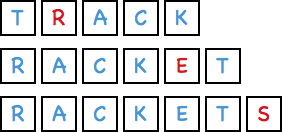 Finally the second player makes:

The first player cannot make another word, so the second player wins.
Variations
Of the 600 common three-letter words, only "fix" and "ivy" cannot be extended to four letters, so it's a good idea to ban these as starting words.
If you like anagram games you'll also like Countdown and Conundrum.
Other topics
Other games like Panagrams: Word Square, Conundrum
---
Play Panagrams