Word Square
Players: Two or more
Players create word squares with the same letters, and the one who creates the square containing the most words wins.
Description
Each player draws a 4 x 4 grid which they keep concealed from the other player.
They then take turns in naming a letter. As each letter is named each player must write it immediately into one of the cells in their grid. Players can choose any letter they like, and letters can be repeated.
When the grid is full the players count up the number of different four-letter words they have made, reading across, down, or diagonally (left to right), and the one with the highest score (out of a possible 10) wins.
One interesting aspect of the game is that you can either choose letters that help you complete words, or you can try to thwart your opponent's words.
Example
The following square scores the player 6 points for the words:
CARD, TOSS, COAT, RIPS, DOTS, and CUPS: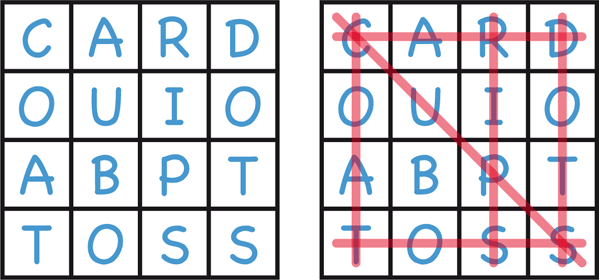 Other topics
Other games like Word Square: Conundrum, Panagrams
---
Play Word Square