Chomp
Players: Two
The players take turns in chomping squares out of a bar of chocolate. The player who eats the last square loses.
Description
First draw a rectangular grid of squares representing a bar of chocolate. A good size is 4 x 3. The top left square is marked with an X: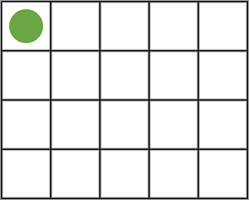 Players take turns in taking a rectangular bite out of the bottom right corner of the bar, by shading a square, together with all the squares below and/or to the right of it.
The top left-hand square is poisoned, and the player forced to eat this loses.
Example
In this game the second player, Red, is forced to eat the last square and so loses:

Other topics